A letter for the First Holy Communion
The beautiful letter Andrea Bocelli and his wife wrote to their daughter on her First Communion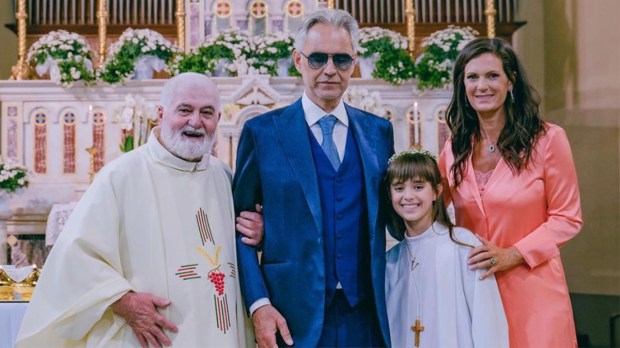 The singer and his wife put their faith to pen and paper on their daughter's "joyful commitment that affirms the whole of life with unprecedented strength."
Popular Italian singer Andrea Bocelli doesn't just have an incredible voice, he also has a powerful faith that he is happy to share with the world.
On the occasion of his youngest daughter's First Holy Communion, Bocelli and his wife, Veronica, shared the celebration with his fans on social media. In a very personal move, the tenor posted a series of family photos, including some with the priest who performed the sacrament.
Looking at the photos there is something so beautiful about the simplicity of 10-year-old Virginia Bocelli's white alb that really highlights the sacrament and its importance == an unusual choice in a country where girls often wear quite intricate dresses with very detailed accessories.
The singer also shared a letter that he and his wife had written (in Italian) to their daughter for the occasion. And when you read the meaningful letter you can see why Virginia has such a broad smile on her face on her special day.
A rough translation of the letter follows:
" It is a celebration, it is a joyful commitment that affirms with unprecedented strength the whole of life: the earthly one, which accompanies you today in your springtime as you blossom, and which beside you will remain in the seasons to come; the otherworldly one, of the heavenly Father who has willed to remain beside us and who does not abandon us.

Dear Virginia, how much grace (divine and earthly) filled this day, when you approached the Sacrament of Communion for the first time! That smile that lit you up tells us how you yourself perfectly understood the sweet responsibility and the reason for great joy that this rite encloses and gives us: "communion," a wonderful word, communion with the world, in which we are brothers, communion with heaven, whose children we are.

Because, as Pope Francis reminds us, making First Communion means "growing in friendship with Jesus and desiring that others may also enjoy the joy he wants to give us."
The Bocellis' letter is not only faith-filled, it's also inspiring for any other parents wondering how to make their child's Holy Communion that extra bit special.
Our congratulations and prayers to Virginia and to all others who received their First Holy Communion in our Church in Cyprus too!
Source: Aleteia